A bit overwhelmed by the sheer mass of information that new parents need to learn, Cub's Mom & Dad need reinforcements. Luckily, they have the highest resources to call on when it comes to child rearing: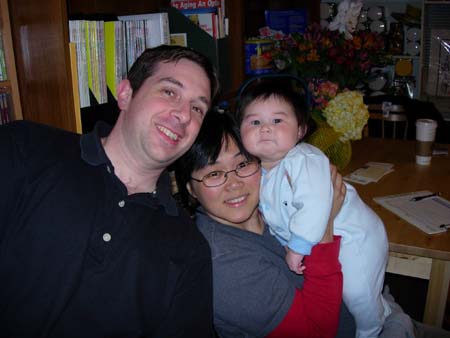 The DiStasios are good friends of the Cheng family, and both Chris and Florence are physicians. Chris is Chief of Neurology at one of the Kaiser Hospitals in the South Bay area, and Florence is a Chinese med school classmate of Mark Sr., as well as a former apprentice to the renowned Dr. Xiuling Ma!
Their unique brand of parent education is perfect for first-time parents who are struggling to not only learn the needs, wants, and proper care for their newborns, but also to balance their family time with work obligations and busy lifestyles.
Their 6-month old daughter, Isabella, is remarkably well behaved thanks to the rearing techniques that Chris and Florence have used. Balancing Eastern wisdom with Western science, the DiStasios have created a truly unique approach to family life. Luckily for the Chengs, they were willing to come and share their insights with Mom & Dad.
Chris easily addressed Mark Sr.'s concerns in plain English guy-talk, explaining the biomedical processes that are at play with the newborn Cub's behaviors. Florence & Isabella spent time with Courtney & Cub, explaining to Mom about the processes, practices, and routines that make life for both more liveable and pleasant. Along with bringing over a post-partum Chinese herbal formula for Mom, they also brought a ton of little items from both the US and Taiwan that make life a lot smoother for the parents and less stressful for the newborn.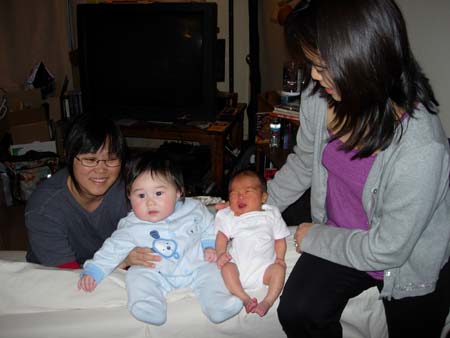 Towards the end of the evening, the two moms gave the kids their first introduction. Mark Jr. reacted by winking at Isabella. Hopefully this doesn't signal a pattern of chasing after older women. :)
CLICK HERE... Next: Cub's Gan-ba & Gan-ma... the Chinese Godparents